About PortStone Flooring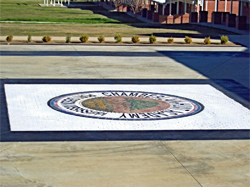 PORTSTONE is an innovative, patent pending flooring product that is made from a specially modified cementitious material enhanced with co-polymers, industrial grade aggregates, acrylic resins, and other proprietary components all reinforced with a woven fiberglass mesh. It is made to resemble brick, stone, slate, and tile. PORTSTONE is only 1/4" thick, yet it has more impact resistance than ceramic tile or even full sized brick.

PORTSTONE has the look and feel of brick and stone, but it is much easier and faster to install. It is installed much like ceramic tile onto thin-set mortar, but instead of installing one brick at the time, with PORTSTONE PAVER SHEETS, as many as 16 bricks can be laid in one motion.
---
---